26 Apr
Mediator Jean Pierre Hervé interviews the head of the ECC France
The ENGIE Group's Mediation work is the fruit of consultations with consumer organizations since its inception in 1999. As a result, the Mediator regularly meets consumer representatives to discuss changes in the context, consumer expectations…
This is the context in which Mrs Bianca Schulz, Head of the European Consumer Centre France, agreed to this interview. We should also point out that in the spring of 2016 the ECC referred a case to the Mediator concerning a German consumer having a house in France, who had experienced difficulties taking out a contract with ENGIE.
Jean Pierre Hervé: "Mrs Schulz, would you start by telling us about the role and missions of the EC? When was it set up? "
Bianca Schulz: "The European Consumer Centre (ECC) France was set up in 2005 and is jointly funded by the European Commission and the French State. The ECC France is part of the network of European Consumer Centres (ECC-Net), whose main mission is to inform consumers of their rights in Europe and provide them with free legal aid In the event of a dispute with a professional based in another EU country, in Iceland or in Norway. There is an ECC in each country of the European Union, as well as in Iceland and Norway, making a total of 30 ECCs in the network. The special feature of ECC France is that it is based at Kehl in Germany, at the border with Strasbourg, in the same premises as ECC Germany. Both ECCs (France and Germany) are part of the Franco-German association called "European Consumer Centre", which is thus the only bi-national centre in the network of European Consumer Centres".
Jean Pierre Hervé: "What links do you have with the national consumer organizations and with BEUC (the European Bureau of Consumer Unions)? "
Bianca Schulz: "ECC France works actively with the French consumer organizations. In addition to exchanges of information (through the Institut National de la Consommation – INC – in particular), ECC France receives many cross-border complaints from consumer organizations. While the national association is still the consumer's point of contact In the event of a dispute, ECC France informs the association of all the procedures and results to try and resolve the dispute out of court. ECC France is also regularly referred to by national associations to come and train voluntary workers in the treatment of cross-border disputes.
Concerning BEUC, ECC France regularly exchanges a lot of information, statements of position, studies… with this organization".
Jean Pierre Hervé: "Who can submit a matter to the ECC, in what cases, and for what type of complaint? "
Bianca Schulz: "Any consumer resident in France who has a consumer dispute with a professional based in another EU country, in Iceland or in Norway can refer their case to ECC France. Conversely, ECC France also has the authority to help European consumers in dispute with French professionals. It is then contacted by its colleagues in the country of the consumer through an extranet tool provided by the European Commission. The ECCs have authority in a number of consumer areas, such as e-commerce, transport, tourism, purchases of goods, vehicles…
The ECC France does not have authority:
in the event of a Franco-French dispute;
In the event of a dispute with a company based in a non-EU country (Asia, United States, etc.);
if judicial proceedings are ongoing or have been brought;
or in the event of fraud. "
Jean Pierre Hervé: "Do you receive complaints more from French or German consumers? Can you tell us which areas they mostly concern? And do you receive complaints concerning ENGIE's business, i.e. the sale of energy contracts and related services? "
Bianca Schulz: "ECC France is the preferred contact for French consumers in dispute with a European professional. The sectors in which we intervene the most are transport and tourism (35% of disputes), followed closely by the purchase of goods (33%). These indeed are cross-border issues by their very nature. Concerning "energy" disputes and more particularly those involving ENGIE, we receive very few complaints. To have authority in such cases, there has to be a cross-border issue, such as a European having a second home in France who may have questions or problems regarding his or her energy bill. The latter can then contact the ECC of his or her country of residence, which in turn will contact us through our Extranet tool. "
Jean Pierre Hervé: "How do you go about processing all the consumer complaints you receive? "
Bianca Schulz: "90% of consumers contact us by electronic channels: by e-mail (at our address service-juridique@cec-zev.eu) or through our web site: www.europe-consumers.eu
After checking that the complaint is admissible (cross-border dispute in a consumer area we deal with), and where applicable translating the supporting documents into English, we pass on the French consumer's case to our colleagues in the ECC where the professional is based. The ECC of the professional's country then contacts the professional to assert the consumer's rights and find an amicable solution to the dispute. Both ECCs (the consumer's and the professional's) communicate via an extranet, and ECC France informs the French consumer of all the procedures undertaken and the solutions proposed. Nearly 75% of cases are resolved out of court". The diagram below also summarizes this procedure.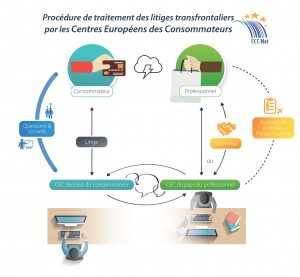 Jean Pierre Hervé: "What are your thoughts about increasing recognition of mediation through the ADR (Alternative Dispute Resolution) Directive and its transpositions in European countries? Before it was introduced, how did you go about resolving protracted disputes? "
Bianca Schulz: "It is still too soon to take stock of the implementation of the ADR Directive. Indeed, not all the countries have introduced it yet, and some consumer areas are not yet covered by it. To settle protracted disputes and serve the collective interests of consumers, we also work in close collaboration with the DGCCRF (General Directorate for Competition Policy, Consumer Affairs and Fraud Control)/the CPC network in France".
Jean Pierre Hervé: "Can you tell us more about how it works in Germany? Is it a different model from the one chosen by France? "
Bianca Schulz: "Germany has a mediator specializing in e-commerce disputes (Der Online-Schlichter) and a universal mediator who covers other sectors (Allgemeine Verbraucherschlichtungsstelle des Zentrums für Schlichtung e.V.). This model is fairly different from the one chosen by the French State, where there are a number of mediators covering different economic sectors. "
Jean Pierre Hervé: "What objectives has the ECC set itself for the future, with regard to its contribution to the smooth running of markets in Europe? "
Bianca Schulz: "Within the framework of its mission to help resolve individual complaints, in the future the ECC wishes to enable even more French and European consumers to submit their cases to a mediator in the country of the professional with whom they have a dispute. As regards the collective interests of consumers, the ECC will continue working closely with the supervisory authorities. ECC France will also continue actively fulfilling its mission of referring market malfunctions on to national and European bodies. Greater cooperation between all national and European participants will ensure that concerted and effective action can be taken to serve European consumers and thereby contribute to the smooth running of markets in Europe. "
Jean Pierre Hervé: "Thank you again Mrs Schulz, Head of the European Consumer Centre France, for all this information, which I am sure will help French consumers visiting my web site better understand the benefits of your organization for the resolution of cross-border disputes in Europe. ".