24 Jan
EEMG Processes and recommendations
How do we proceed?
Filter eligible cases;
Common values during the process: transparency, independency, equity, respect of people involved;
Negotiation process: the members emphasise the need to find a satisfactory formula according to the case;
Examples: open communication, pedagogical explanation, take action, regular contacts with parties;
Produce guidelines and follow their implementation with entities.
The main types of policy guidelines topics encountered by EEMG Members: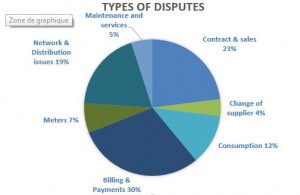 EEMG members' shared concerns
1/ Mediation form: customers must be active players regarding the settlement of their dispute.
2/ Company mediation is not a substitute to "company complaints handling" departments. An effective mediation process must not serve as an alternative to "complaints handling" departments in a company. It acts as an opposition power and allows the company to improve the management of its customers.
3/ Some fundamental values must be emphasized during the mediation process, such as listening both parties' views, respecting their freedom, finding a settlement based on law and fairness. Disputes settlements can be diverse and personalized to each case.
4/ Suppliers must be more pedagogic towards customers in their billings.
5/ Smart meters should be promoted as a useful tool for customers to better grasp their consumptions. Members of the EEMG consider that smart meters will provide real progress that will be beneficial to all.
6/ Each mediation case dealing with fuel poverty must be analysed with a particular attention, so as the vulnerability of the people involved is fully considered. Besides, if necessary, recommendations can be made to maintain and improve the fight against fuel poverty.