The 2014 assessment and highlights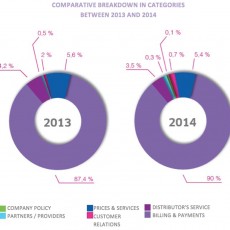 4,301 requests  sent to the Mediator in 2014,
Including 4,102 referred on to the customer services of the different divisions and subsidiaries concerned, and 199 handled by the Mediator in the last form of amicable resolution.
A majority of these requests again concerned individual customers, but new disputes were handled: suppliers of Group entities, B2B customers of service subsidiaries…
Based on figures for the 1st half, 2015 will follow the same trend as 2014, namely a reduction in requests but a rise in the number of disputes handled by the Mediator, more particularly due to the effective extension of the Mediator's remit to entities that previously did not mention this option of out-of-court dispute resolution to their customers and negotiating partners.
Here is a presentation of the Mediation service and the highlights of 2014.